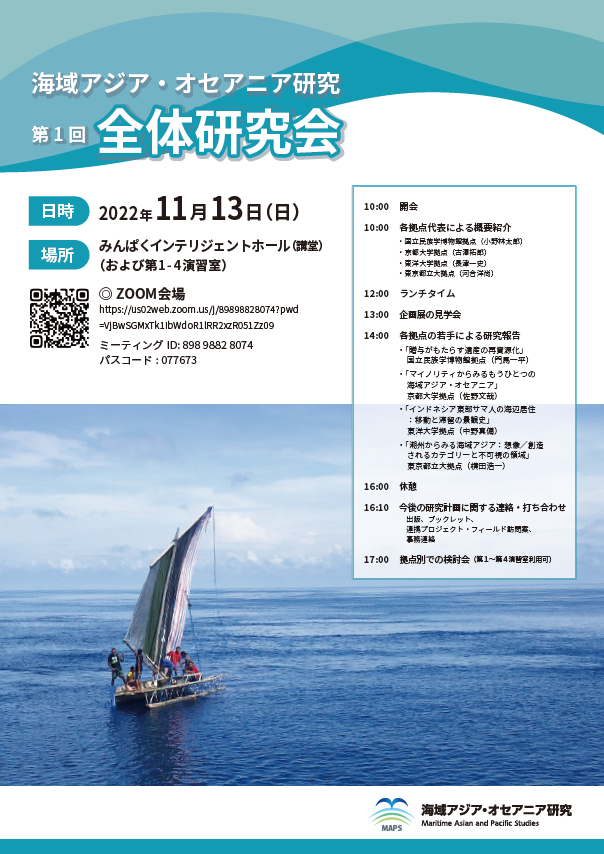 The first overall meeting of the Maritime Asian and Pacific Studies (MAPS) was held on November 13, 2022.
In the first half of the meeting, an overview of MAPS as a whole and its positioning were introduced, and then representatives from the four centers (Minpaku, Kyoto University, Toyo University, and Tokyo Metropolitan University) announced the members and the projects they plan to implement. The "Maritime People and Art of Their World" exhibition currently being held at the National Museum of Ethnology, which is the venue for the event, was also introduced and a tour of the exhibition was conducted.
In the second half, young researchers from each center presented their research. In addition to the content of their past research, there were reports and discussions related to the project content.
Future research plans were also discussed, and plans were announced for the publication of a series of books on the Maritime Asian and Pacific Studies and a booklet series. It was also confirmed that collaborative projects and young researchers' study groups among the four centers would be encouraged, and that a project homepage would be created and updated as needed.
Finally, there was a meeting for each center, and detailed discussions were held.
MAPS General Study Group Flyer
投稿日

2023/1/26

カテゴリー